Commercial Floating Boat Dock Services
Merco Marine has manufactured large commercial marinas throughout the country and abroad. With large projects like these, we will work with you to complete your project in a way that is ideal for you. Below, you will see examples of some of our past commercial marina projects. All of our projects are similar. However, the methods that we used to complete them are entirely different.
---
Marina in Pennsylvania
This is Southside Marina located in Pittsburgh, PA. We manufactured this marina from scratch in 2015 and then added a later phase in 2019. For this project, our heavy-duty steel truss and wood/glulam system was chosen, which is the strongest type of dock system that we manufacture. With Southside, we built every section of the layout at our plant in Wellsburg, WV, and then shipped it using multiple flatbed truckloads up to Pittsburgh, PA. One of the key features we supplied is a floating platform to facilitate the marina's 2-story office, vending, and restroom facility.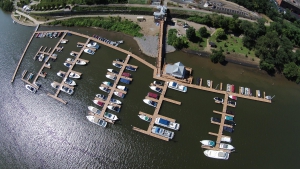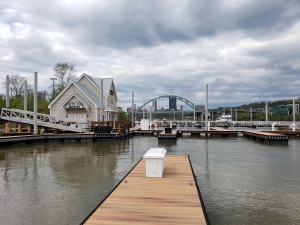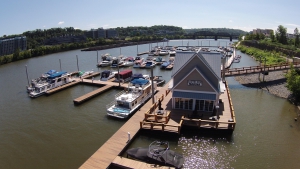 Since all of the accessories, utility chases, and hardware placements for fingers were already pre-installed at our plant, onsite there was very little assembly needed. The customer worked with a local contractor and had the sections placed into the water with a crane. The sections all pin together with two 3/4" pins.
When this marina was first constructed in 2015, it was and still remains Pittsburgh's newest marina. It made national news when a sports writer at PNC Park saw the marina's two-story office, vending, and restroom facility come floating past the Point. Check out the news story as it was seen on WTAE News Pittsburgh. We've also seen the marina make appearances on the Bravo TV network.
---
Marina in Michigan
We started this project in 2019 in Michigan. It was built using our galvanized steel truss frame dock system. For this project, we supplied most of the materials including all of the frames, hardware, floats, and fasteners. All of the lumber and decking was sourced locally. We shipped the materials unassembled, and with our guidance, the customer was able to complete all of the assembly on site.
---
Marina in Florida
This is Oyster Bar Marina located in Pensacola, Florida.


---
More Projects
Want to see more examples of our commercial projects?
Check out the commercial section of our Projects page.