Industrial Floating Boat Dock Services
Merco Marine has a few different systems available for industrial applications including (but not limited to):
Floating Pipline Applications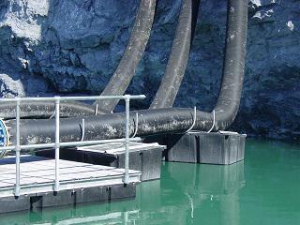 Our floating pipe line cradle needs 4 basic components, the cradle frame (PLF-CF), the hoop brackets (PLF-H10 or PLF-H18), the float, and the bolts. Any of our 4'x6' Floats can be used with the cradle frame (4'x6'x12"-4'x6'x32"). There are a lot of factors that determine the amount of float depth you will need.The type of pipe you use, the weight of the water inside the pipe, and the quantity and spacing of cradles all affect this.
---
Industrial Floating Walkways with Handrail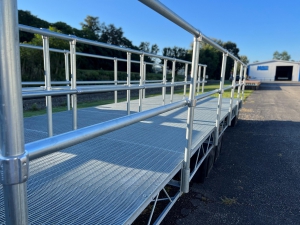 Merco Marine floating walkways are available in many different lenghts and come complete with handrail and our press lock decking. The standard width that works best with our pump docks is 4'. All sections can either pin or bolt together in 10' increments to allow for easy assembly on site. Shorter or longer lengths or widths are available using our standard truss frame systems that you can find here on our website under Truss Frames.
---
Floating Vertical Pump Platforms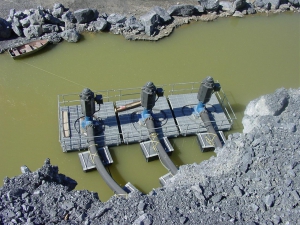 We build a lot of different Floating Vertical Pump Platforms each year for many different application and sizes of pumps. Merco Marine's 12' x 12' and 16' by 16' vertical pump docks can support various pumps for agriculture, water, and waste water applications. The sections of our rugged steel platforms are great for high traffic or commercial needs and can be easily bolted together on site. It comes complete with floats, galvanized press lock decking and plate for the pump. The frame is made from 4" x 7.25 channel and hot dip galvanized after fabrication. The handrail we use is 2" galvanized pipe that fits together with Hollaender aluminum/magnesium fittings that you can also find here on our website. Our plates are galvanized as well, but has no hole so the customer can cut the correct hole for the pump they are using. Our press lock decking comes standard (already included) on our Floating Vertical Pump Platforms, but can be purchased individually as well.
---
More Projects
Want to see more examples of our industrial projects?
Check out our Projects page.